Until recently, Pyrkon was the biggest pop culture oriented event in our country. The previous edition gathered close to 44 thousand participants, which was set as another record in the history of this convention. This year the festival experienced a minimal drop in the numbers, bringing in 43 thousand fans of fantasy, cosplay, comics or video games. Why the lower amount of participants? What did Pyrkon surprise us with this time? And, most importantly, should you attend the next edition, on 26-28th of April 2019? Read on to find out!

Before the festival…
Like every year, a smaller or larger "scandal" is already a tradition surrounding the Pyrkon Fantasy Festival. Be that a tub full of game dice (with a mostly naked woman inside), Gazeta Wyborcza writing a less than favorable articles about the event, or lacking funds to hire a graphic designer. This time, the hot topic would be the allegation of unlawful use of the graphics used in marketing. The case, however, most probably ended peacefully between the artist and the organizer - fantasy club Druga Era.
The price of the tickets increased compared to previous years, and it's a pretty significant change - from 80 PLN to 119 PLN for the 3-day admission. One day passes were also impacted by this change. For instance, tickets for the longest con day, Saturday, increased by 24 PLN.
In addition, Warsaw was experiencing the Warsaw Book Fair, with an array of events that surrounded it (about which we wrote in the last Monday Con Flash), and just a month before the same city was hosting Warsaw Comic Con Spring Edition, which drew over 56 thousands of fans to Nadarzyn.
These are probably the main reasons for Pyrkon not achieving another record this year. And you? Why didn't you come to Pyrkon?

It's go time!

This year, eight buildings were designated for use during the festival (11 different pavilions). They were separated into the showcase zone, the sleeping zone, the game zone, the assembly hall, and the lecture halls, where the meetings with the most important guests and the Masquerade were hosted, the gastronomy section and the miscellaneous showcase halls including Gamesroom, the Kid Zone and the Zone of Fantastic Initiatives.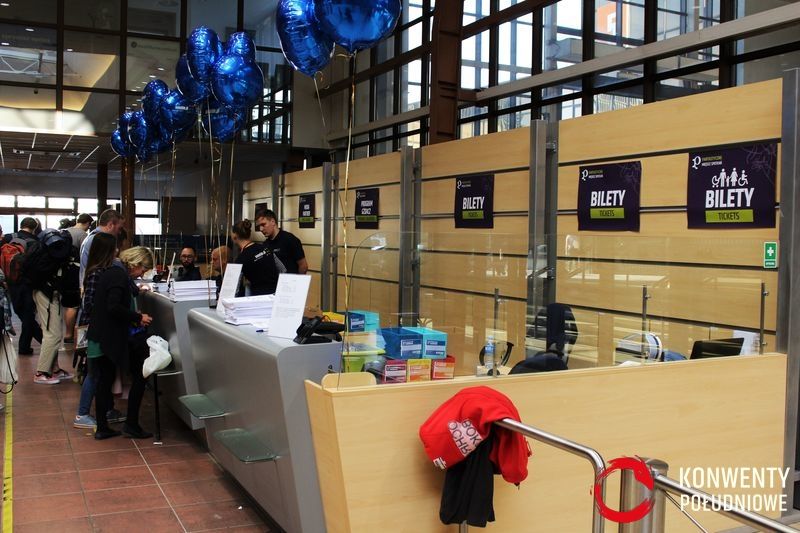 The accreditation station was placed exclusively on the north side of the building, differently from previous years, when there were many accreditation points. Unfortunately, it proved to be quite a problem, since actually getting to the booth took a long time - having to cross nearly a fourth of the International Fair Centre Poznań was necessary since the entrance situated from the side of the train station let through only people which already went through the accreditation process in the north. In the pack given to a participant after acquiring a ticket, one could find a paper ID in a rubber holder to be placed on a lanyard and guide with maps, printed in a A4 size, which also contained the most vital pieces of information about the convention and the event's programme. The only thing that the guide was missing were the descriptions of the attractions. The hosts decided to bet on the mobile app, containing a more in-detail description of the going-ons. The usual hand bands were also missing, so exchanging, or even lending an identification was not a problem. The only downside to this devilish plan of some more crafty convention-goers was that once lost, the id has to be repurchased at the full price of the accreditation. Personally, I would much more prefer to be wearing a band around my wrist and worry not about losing the fickle ID, than trusting in something that can be destroyed with just a little water or bad luck, ending with me not even noticing it was missing.

Localisation description: The Four-pack

I will attempt to shortly describe what we experienced and observed in each of the buildings. I shall begin with the one most filled with attractions - a building consisting of four halls, called affectionately by the public "The Four-pack".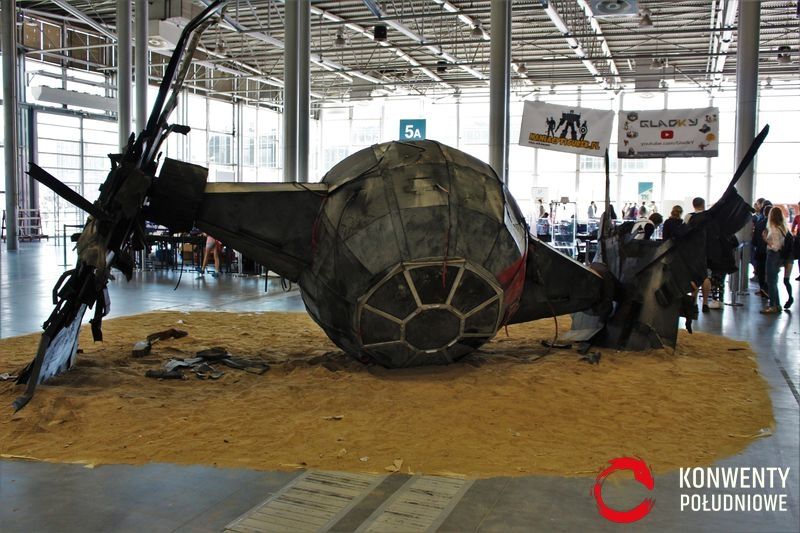 The first part - hall number 8 - consisted of a showcase of artisan work. We could see a beautiful mural with Pyrkon's logo painted by a capable artist, steampunk-styled portraits, various models and figurines from popular series (mostly Star Wars), or a life-sized model of a crashed TIE-Fighter. 3D paintings of women were also very pleasant to look at, and they looked like they required not only a skillful hand, but also a creative mind. More of these things you can check out in the photo gallery as some of the things would be very difficult to describe with words. I'm no Griffin McElroy of descriptions either, so all I can do is invite you to see the marvels of hall 8 with your own eyes.
Sector 8A was mainly under the sweet control of The Zone of Fantastic Initiative, a place where all the fandom projects (mainly different conventions) could flourish, thanks to a spot offered them by the Zone, thus potentially drawing in a bigger audience and potential con-goers. There were competitions organized, names shouted out, and the entire hall felt warm and friendly, even though most of the people there rivaled in terms of businesses. We, unfortunately, had no place amongst them this year, as we decided not to apply for a booth.
In the same hall, one could find the Kid Zone with attractions for youngest con-goers, and mega-sized games, such as a giant Twister mat, or a humongous version of the ever frustrating game of Jenga.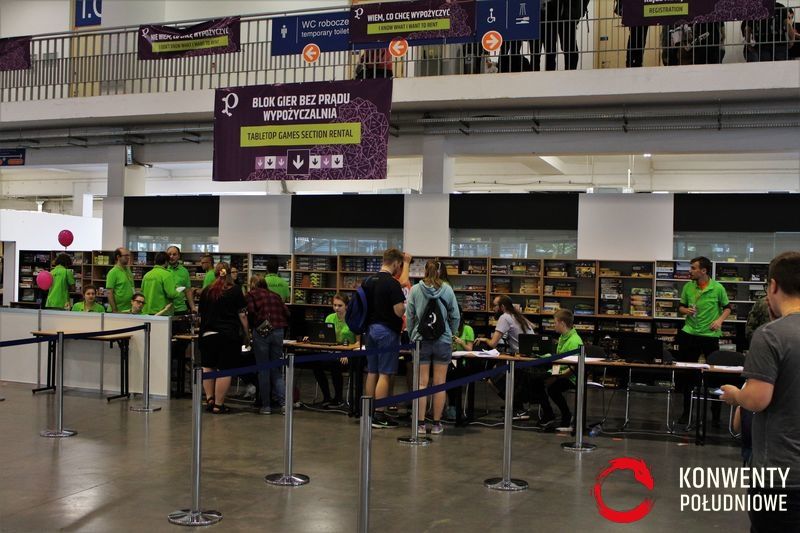 The 7th hall hosted a spacious Gamesroom divided into sectors for card games, war games, and tournament games respectively. You could lend almost anything, quite literally every game you could think of was quickly fetched by a volunteer, called here a Gżdacz (and spelled something along the lines of gschdatch). The team running the Gamesroom was well-oriented and eager to help. The hall was open 24 hours a day, so if you had trouble sleeping and the gastronomy hall wasn't your favorite place in the world, the doors were always open for you to play several rounds of your favorite game, possibly tiring you enough to the point of passing out and falling asleep on the spot.
The last part of the building, hall 7A, turned out to be colonized by Elves, Middle Earth wanderers, nuclear war survivors and… the Power Rangers right next to the Hidden Leaf Village ninjas. This was the place where you could chat a bit with the best of Stalkers (the artifact-seeking kind, not the other, you know, type) and the buffest men the post-apocalyptic wasteland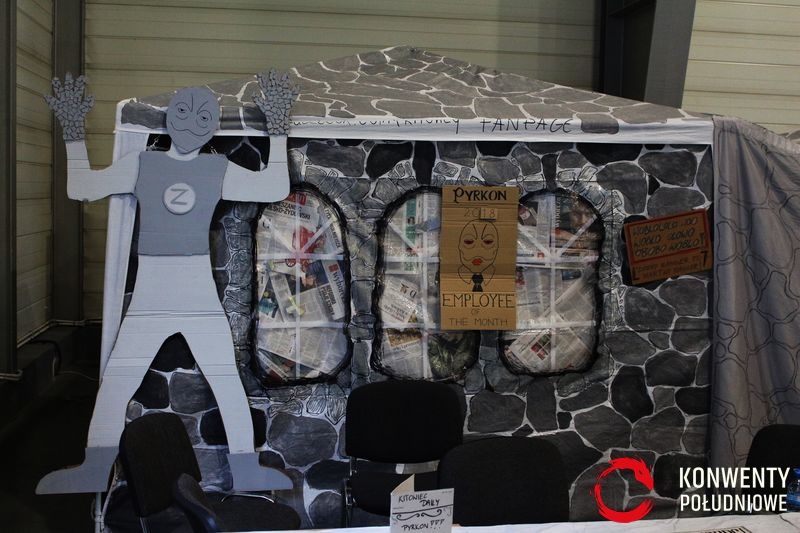 could offer help on the topic of starting a fire, surviving in the wild, and the immortal art of putting together and then dismantling a gun. Ones leaning towards Tolkien's idea of fantasy could learn how to make a chainmail armor. And the Power Rangers... Well, the Power Rangers waited for their chance to show a victory dance. At the center of the hall, an arena designed for playing Jugger was built, ready to host American Football-like games. On the other hand, perhaps comparing Jugger to American Football was foolish - alas, which team in America goes against their foes with deadly weapons in hands?

Pawilon 15 - Special Guests and The Masquerade

Pawilon 15 was the most southward place, and at the same time the most important building during Pyrkon. Here we had the chance to meet Felicia Day (a meeting with whom was hosted by one of our ex-redactors, Krzysztof Kuczyński). The same building was the center of the prestige cosplay competition - Masquerade. Unfortunately for us, it became so prestige, that even the media didn't receive any advantageous seats, so taking photos proved very difficult (save for people who can afford a really good lens).

E-sport - forever intertwined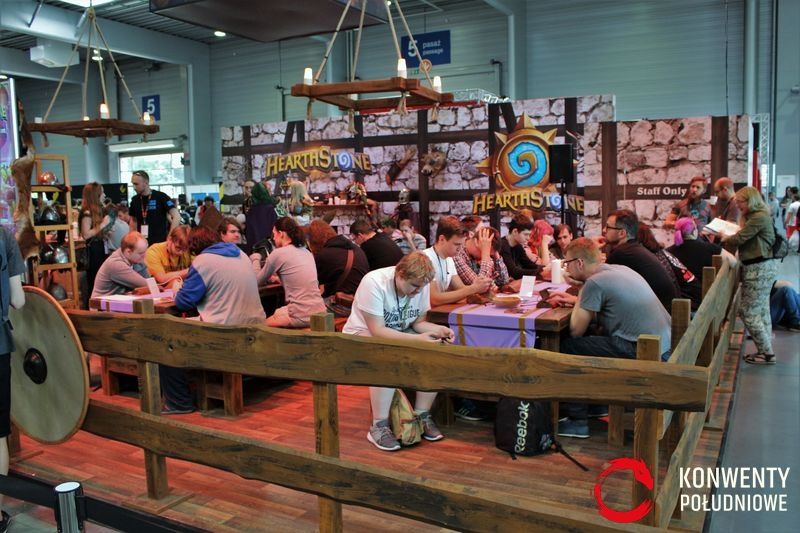 Starting with last year, the e-sport zone makes itself more and more noticeable, though this year I had the feeling that it was a bit less rich than the one I visited in 2017. Building 6, where the said zone was organised, offered the con-goers matches of Hearthstone or League of Legends (there were also other games, though they were pretty much overshadowed by the mainstream titles), competitions with fun prizes (also a battle using... foam tubes?) and a free instant meal offered by Knorr. Several booths with presentations of new technologies and pc gear also popped up in Building 6, with the highlights of creativity going to Hearthstone's promotional tavern and Asus' greek gardens.

Shopping and browsing

Attractions feed the soul, but what feeds the body? Our questionnaire, which we didn't have time to publish, shows that many of you attend conventions just to do some shopping.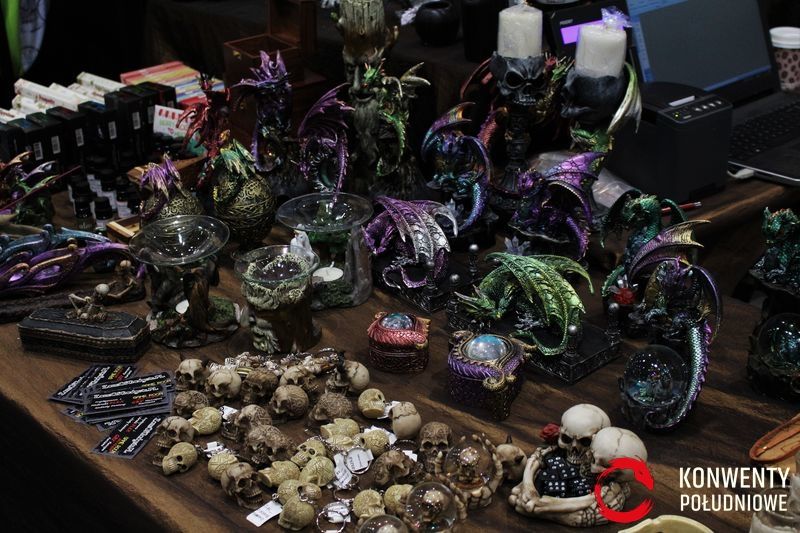 Looking at Pyrkon, it is definitely an opportunity to spend some heavy money. Not only the hall for sellers was enormous, it also contained everything fan's soul would desire. Japanese sweets, books, manga, comics, figurines, nendos, gadgets, board and card games, plushies, posters… Every fandom, every franchise, you were able to find it right there - at Pyrkon Fantasy Festival. Well, maybe besides male Lennon glasses for which I searched for over an hour, but I'm sure they were somewhere out there. Here, once again, I would like to direct you to our photo gallery, because seeing is believing. You can find the photos >>HERE<<.

The refugee camp - time to sleep, yell and stay in line

Halls 3 and 3A have been fused into a huge mess of sleeping quarters. In given sectors, divided by tapes, one could set up their sleeping bag/mattress/magic carpet (cross out whatever doesn't apply), and thanks to that you could sleep on the conplace without the need to look for a hotel, how, I recently discovered, people have to do in America. Unfortunately, there was simply not enough space, even though the organization and control over the flow of people were stellar. You can even say that it was a very "social" sleep room because even on Friday, it was already hard to find a place in the prepared rectangles even if you, quite literally, tugged yourself in into an embryo position. There was also a shortage of showers since 4 booths (two for women, two for men) is a little too little for thousands of people who slept in halls 3 and 3A. Queues to the bathrooms were understandably long as well, but fortunately, there were several portable bathrooms outside, which unloaded the toilet rush just a bit.

To eat, to drink, to survive!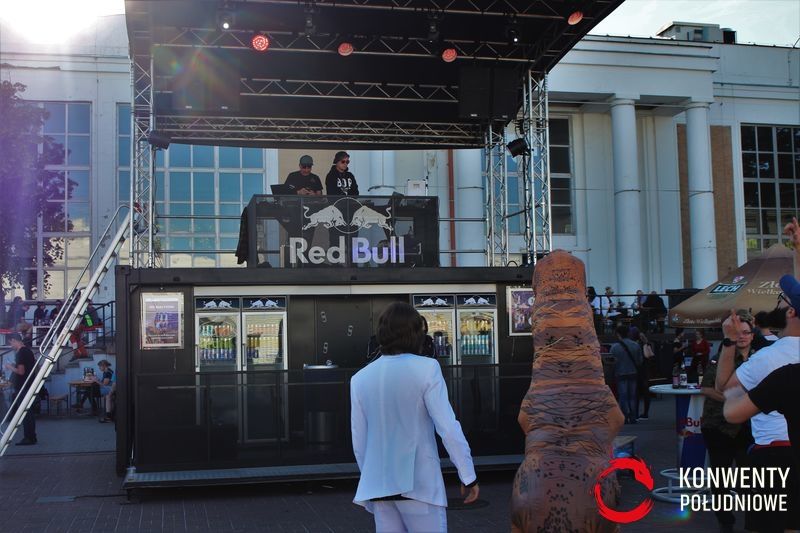 I left the gastronomy zone for the end. It spread through the entirety of hall 4 and a part of the big courtyard. You were able to buy simple meals there, such as pizza, pizza snacks, burgers and even tuna. From what I observed, the choice in foods was relatively small, even after I counted in the food trucks that were parked outside. The stream of beer, however, was abundant and never stopping. Well, if you peeked inside the trashcan, or even on the ground, and counted the number of bottles, cups, and caps, you could easily figure out that it was perhaps the most popular beverage in the adult sphere of the convention goers. Surprisingly, even with such high alcohol consumption, there were no loud arguments or fistfights, at least none that I was aware of, and the consumption itself kept itself at a respectable level. Of course, that is also heavily owed to the Patrol, which checked the contents of the luggage two out of three times to check for any smuggled alcohol.

Is that all? Surprise, it's not!

If you think that we'll end on a tasty and a lightly buzzed note, you are sorely mistaken, for there is still a lot of space between the actual buildings hosting halls that I previously wrote about. Near the gastronomy zone, a tent belonging to Red Bull popped up, proudly sporting a DJ-occupied audio-stereo system, which nearly constantly served various types of music. For a small fee you were able to try out shooting from rifles such as AK-47, M4 or an ASG pistol, have an archery battle (using safe arrows, of course) and check your dexterity on an obstacle course. Additionally, a large bus was set up near the con place in which participants could donate blood, near it a car that hosted games for REBEL publishing company, and Multikino came forth with a portable cinema screen, on which two movies were screened. The first one most definitely was Rampage, the second, however, escaped my mind. Maybe looking at the photos would jog my mind?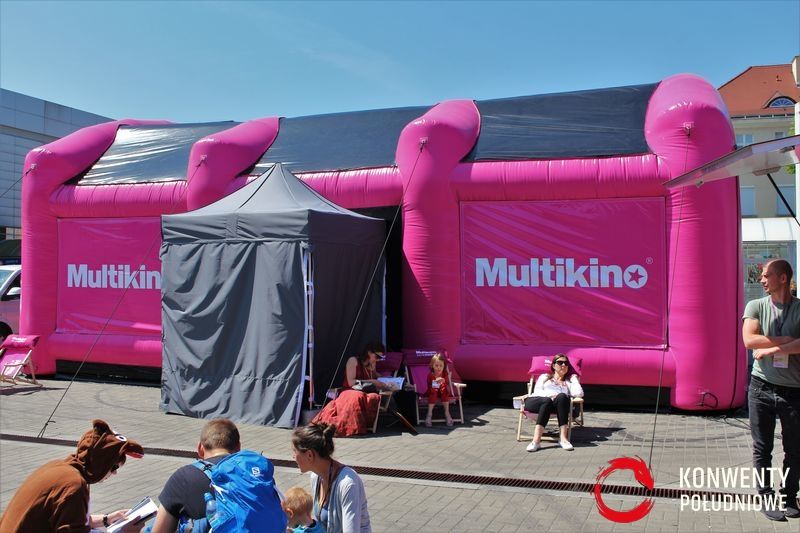 The Staff
Taken under the consideration the sheer scale of this convention, Pyrkon requires a large number of hands to be run correctly. The security was handled by Bokser security company, and even though they sometimes happened to be cranky or lost, I think that they did their jobs properly. Helping them during this event was the Peace Patrol known from the Woodstock Music Festival (and soon the newfound Pol'and'Rock Festival), and they were mostly seen and active checking luggage and possessions of the people walking back onto the con place during the late evening and night hours. The effectiveness of their work was, however, questionable, as the last, third entrance, the last one that was the closest to the 24/7 shops, was left unguarded, resulting in a stream of unpermitted items flowing right into the festival grounds.
We can't forget about the medics, of course, which were somehow always present in the corner of my eye. I, fortunately, didn't have a reason to visit the medical ward, so I am unable to determine the level of the service provided, but I didn't see or hear anyone complain either.
The volunteers differed greatly across the days, localisations, and most importantly, their motivation. There were some who simply hoped for a free con ticket for doing their job, and on the other side of the spectrum, there were those who honestly tried to help. Unfortunately, like every year, they were mostly underinformed, but this problem was simply solved by setting up information points across the convention grounds. About coordinators and organizations I have nothing to say since I barely met with them ever since January, I think?

What's the most important thing in Pyrkon Fantasy Festival?

I was really skeptical about this year's edition of this convention, which I will explain further a little down below. But even though my expectations were low, I witnessed at least several situations that reminded me of the magic of Pyrkon once again and refreshed the memory of why people come to Poznań in the first place.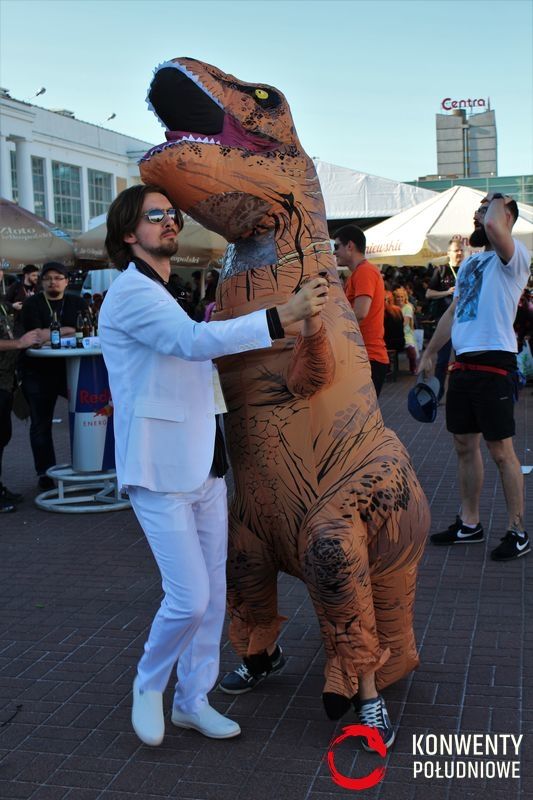 It's a simple situation that could have gone awry fast. Someone trips and falls down the stairs. Even though the distance was short and the landing was not really endangering to the victim, around ten folks run up to the fallen, pick them up, ask "Are you alright?". They are showing that they care, someone offers to walk them to the medics.
A single person sits alone by the table in the gastronomy sector. A few short moments pass and several others walk up to the table and ask if they can join. They pull the loner into a conversation, offer them a beer and, all in all, show a very friendly and positive attitude.
A group of guys is playing volleyball. Every other moment someone joins in and the ring of people extends to make sure the newcomers are comfortable. They don't ask for names, occupations or age - it's like they've known each other forever. It's as simple as that.
Board games. Some people walk between tables when people are engaged in games. Somewhere, a round ends, and one of the walkers timidly asks if they can join in. They welcome them with open arms, one of them running off to find a chair.
There are many, many little stories like this one, and I'm sure most of you have similar experiences. Of course, they happen at every convention, but here… It's a powerful cumulation of positive vibes. You are never really alone at Pyrkon, to be honest. You are always surrounded by kind people who will introduce you to their friends and make you feel needed and included. You feel a part of something greater, and I have never felt this special, special feeling stronger than during Pyrkon Fantasy Festival. And so, even for that feeling alone, I can recommend attending Pyrkon.

Professionalism
There can be a lot of good said about Pyrkon. Perhaps if I was a regular convention goer, I'd most probably have a lot of fun. But alas, I am a journalist that came to Poznań like every year to play my role in the great theater production called a convention. My role is simple - to do my job, and only then, in the evening, be able to meet with my friends and unwind after the stress of the day. And here it's where it appears - the worse and worse treatment of people in the same line of work as me. We have fewer and fewer privileges, but there is more and more expected of us. But this year, some lines that should have been left untouched were crossed. My work was impeded as much as humanly possible - simply explained, as a medially accredited participant of the convention in had exactly zero additional authorizations. I was just a "participant with a bigger ID" and additional responsibilities. What's more, I couldn't even register for any prelections, for I would have needed to purchase a ticket to do so, and in many cases (not always) I wasn't even let inside the room to take a few photos. Additionally, for the last three years, we were not allowed a privileged admission inside the Masquerade hall, which is a sensation in its own right, for I have not met with a similar treatment anywhere else in the country and beyond. Even though we get so little, we are ultimately bombarded with terms and conditions (sometimes unacceptable for a service such as ours). Year after year we have fewer media partnerships and cooperations, we didn't have anywhere to load our equipment because the "Media Room" was not really a "Media Room" and we had no access to it, save if we got a special sticker that was given mainly to media patrons, which there were officially two plus people who lucked out.
We also had to give up on setting up in the Zone of Fantastic Initiatives because of the unfavorable conditions. Something that in theory was supposed to boost and support smaller fandom made initiatives, imposes conditions, which are, amongst many, making some investments and taking three days of work leave, because while attempting to negotiate favorable hourly conditions, it turned out that there is no way to do so, and we would have to suffer financial consequences. Is it fair towards people who already sacrifice a lot to spread the word around the country, to give them barely anything in return?
Appearing on Pyrkon is costing us more and more, and it's getting harder not only to show up there but also to live up to the gargantuan expectations that we are met with. Everything, however, hides under the word "professionalism", which is blatantly overused, because treating media like this is what's truly unprofessional.

Before you leave

If you survived until this far into the text, I'd like to congratulate you on your outstanding perseverance. I'd also like to address that I wasn't able to go everywhere and at every time, and trying to describe everything I have seen would take at least several more pages, and I can already hear my revisionists and translators groaning from in front of their computers (Gee, thanks? - G.R.). I hope that reports written by my friends will hopefully fill the gaps I have left in my side of the story. And as I said before: Pyrkon is so much worth going to. Maybe not for the program or the attractions - since it's getting increasingly hard to do something new and never done before. Inviting Felicia Day was a giant and great positive step towards opening to a different populus than before. And, you know, It's worth to be there just to become one with the amazing community that gathers in Poznań just for these 2-3 days.


Special thanks to Black Monk

Right here I would very much like to thank Black Monk for inviting us into an exclusive VIP party, thanks to which we could get to know (and later write down in THIS ARTICLE) first-hand about their release schedule for the upcoming months, and on Saturday meet with Felicia Day in a special, closed meet-up, photos from which we will post later. Thank you so much for so many years of mutual cooperation, and we hope to continue it on a level as high as we both have achieved today!